I've returned to my early morning walking—hopefully to again be running soon—for a variety of reasons (of course, insomnia is a big help here).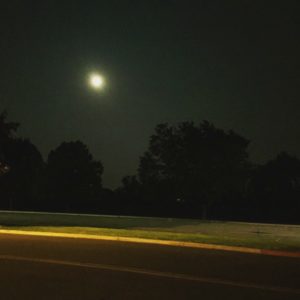 Walking the route I used to run a couple of years ago under a hazy, almost full Moon, it's inspiring me seeing people out on their own (or with someone) taking charge of their well-being, capturing some solitude, or doing whatever it is that drives them out into the coolness of the pre-dawn morning.
It reminds me of some beloved words from the 13th-century Persian poet Rumi:
The breeze at dawn has secrets to tell you.
Don't go back to sleep.
You must ask for what you really want.
Don't go back to sleep.
People are going back and forth across the door sill
Where the two worlds touch.
The door is round and open.
Don't go back to sleep.
With many changes upon me, this one feels particularly correct this morning.
I believe in I had forgotten the power of the inspiration and productivity that comes from before the dawn, the devices, and the demands of the day.
#Inspiration #DontGoBackToSleep #DontForgetThisAgain #335